The most beautiful promenade, ever …
Our Promenade has always been the most beautiful… It had its soul… Especially for Advent…
It is beautiful, with an area of ​​approximately 10,000 m2. In my time youth, we walked
there and looking for our girls…, and they looked at us…
The promenade had, an unwritten rule, that there were three zones of walkers inside it. Left, middle, and right… 
All depending on the age you have…
It was partially leveled, in areas where there were roads… With a slight longitudinal and transverse "belly".
All were treated with asphalt…
Reconstruction of Promenade, in even more beautiful…
Its reconstruction took a long time, as it is located in a protected archaeological zone, so conservators had to study the excavations…
The conceptual design was made by the architect Mihajlo Kranjc. The basic surface of the Promenade is made of stone.
Drainage gutters are made of granite cubes. In one part, a diagonal raster with a stone in two colors was discreetly added.
It is functionally divided into side zones intended for catering terraces, while the central part is left to walkers…
The part is also horticulturally arranged, with urban furniture…
Everything is harmonious, such as architectural design and architectural landscape …
Everything near the park I wrote about earlier …
At the bottom of the Promenade, there is a large stone coat of arms of the town of Slavonski Brod.
Public lighting poles have also been changed. Set in a central location is an elliptical fountain.
And my attempt to contribute to a better, more beautiful, and tidy Promenade…
And I, through my conceptual design, tried to contribute to a better, more beautiful, and tidier Promenade…
My concept consisted of two underground floors… Each floor had three zones:
1. Business premises, 2. Public parking and 3. dual-purpose shelter. Road entrance and
the exit are solved as a spiral…
Pedestrian vertical communications are solved separately from road approaches…
The canopy has glass canopies, domes, and a glass pyramid, which serves not only to
illuminate the first underground floor but also as a design element…
In addition to the above, for the visual "breaking" of the narrow but long shape of the
Promenade, and amphitheaters are also planned, as summer stage…
But, unfortunately, since politics is "stronger" than the profession… nothing from my conception…
Too bad.
There is also my drawing of architecture …
Multipurpose Promenade….
Countless cultural events have always been held on our Promenade…
From all kinds of fairs, events, concerts, advertising, and politics, to sports events and
Advent with New Year's Eve…
Everything was held there.
For Advent, there are even houses for the occasional sale of food, drinks, and souvenirs…,
and a podium for musicians and ice skating…
I think that the promenade is crowded with what is needed and what is not needed …
From year to year, for the New Year holidays, the promenade is everything everything is
worse and worse …, which is not unusual, since the city administration of the City of
Slavonski Brod does not have an architect to guide them on this issue, but these tasks
are performed, probably by lawyers and secretaries of the head…
There are also two hotels I wrote about earlier…
Damage to the Promenade and its maintenance…
Although our promenade is not very well done and according to the rules of the
profession, some of the works were not repaired during the 11-year warranty for
unknown reasons…
Since 2004, when the arrangement of our Promenade was completed, the time has done its…
Stone slabs under the wheels of supply vehicles were broken, granite cubes fell out,
depressions were formed on some surfaces, joints were disappearing, weeds began to grow,…
In addition to the above, at various events, as well as the time of this year's Advent, there
are always problems with various connections electric cables, which are laid on the floor
surface, opening various manholes, leaking water from the fountain, leaking water from
the rink, and for or these reasons he cannot walk normally and safely.
In addition to the above, dangerous and distorted Christmas trees,….
Here's what that architecture design engineering looks like, at this year's Advent: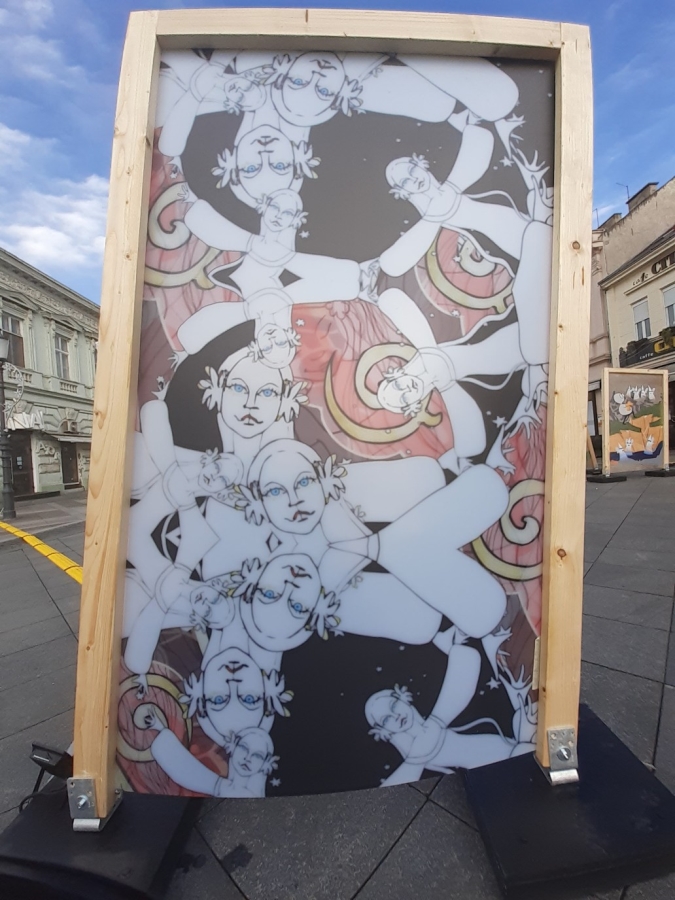 I hope that this content has helped you, …………..
Thematic examples are:
https://www.360cities.net/image/slavonski-brod-korzo-southside
https://www.youtube.com/watch?v=tk3fa0hwfIw&ab_channel=VolimSlavonskiBrod
Do you have a picture and story of an "Advent" in your city?
Either way, leave your comment.
Until reading …….
Write your impressions and questions or put pictures in the comment below: