"He always lives…"
Tutankhamun/Queen-Elizabeth II's…
I still remember Tutankhamun in elementary school… Of course, we didn't go to class together, but I learned about him… I forgot some things, but that's not important to me in this story… I hope…
So I learned about him in high school… Again, all the same… And at the Faculty of Architecture, we only learned about him and the pyramids in which he was buried… (Ancient Egypt, c. 1341 BC – Ancient Egypt, o. 1323 BC)…
He was only 18 years old when he died… he was an Egyptian pharaoh…
The living dead…
Only when someone dies, talk about him begins… He was a good friend, singer, doctor, architect, business partner, politician… During his lifetime, few praises are spoken about him…
And what about Jesus…
The Bible does not mention the date of Jesus' birth. In the Gospel according to Matthew, it is written that Jesus was born during the reign of Herod, who died in 4 BC. Kr.
Even today, some nations celebrate and respect him… Like some people of their late President of the State and war hero…
Thank you to all the deceased, but how long will we live with them and why… All this requires our time, financial expenses, but also political fights between dissenters…
Why do we care more about the dead than the living…
How much money could have been collected instead of those stereotypical ways of funerals and marking the anniversary of someone's death…
And that money, to give to children who are dying of hunger, to elderly and neglected people who have nothing to eat, to the sick who cannot buy medicine…
But it is important that the money is spent on armaments, probably so that later everyone could respect their victims…
Are we hypocrites?
Inte

rnal-External links within this website:
Visit my site, where I write about The Living Dead…, as well as here. 
FB Group: "Let's arrange our city so that we love it more…"
https://www.facebook.com/groups/803161110493997
https://www.facebook.com/photo?fbid=10218776068944888&set=gm.934909740652466
Business page:
https://www.facebook.com/Archi_Inter_Des-101096111630634
And the Google:
https://groups.google.com/g/tamilcommunity/c/auNguI8cXwc
https://www.youtube.com/watch?v=_RiKDjRqUzE&ab_channel=FamousActors
Problem/Location: The Living Dead

/World
I hope this content has helped you to think and take appropriate action.
Of course, with the competent services in charge of solving such cases in your area…
In other words, do you have similar cases and how do you experience and solve them?
Conclusion: "…who dies honestly." 
Write your impressions, questions, or pictures in the comment below …
Until reading …….
One picture, speaks more than 1000 words …

Photo:

  Pixabay, Dusko Medakovic, Arch, Google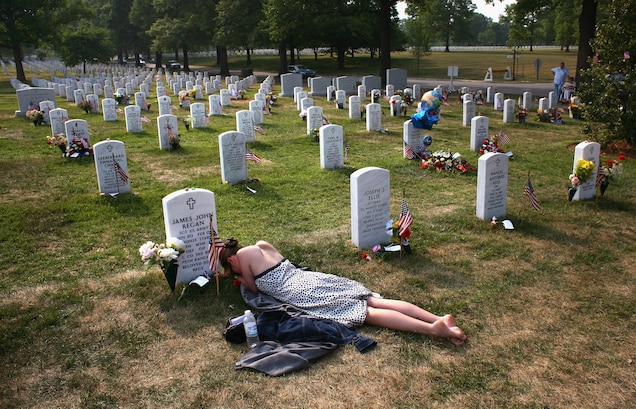 On May 27, 2007—Memorial Day—Mary McHugh mourns her dead fiancé, Sgt. James Regan, in Arlington National Cemetery's Section 60. Regan had been killed by an IED explosion in February in Iraq.